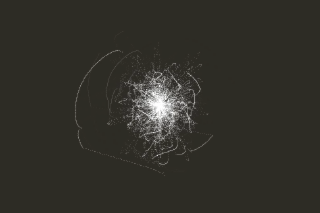 In some meanings the sound is not organized because of depending on programs and a filter but in other hand it woud be a cheep machine sound and so that it's not such like a difficult music.
Reak2softpop#05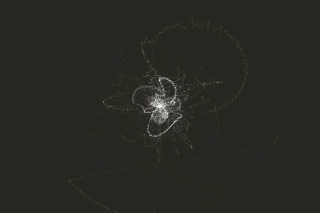 Now I added some logical programs for polyphonic rhythm sounds.
It's fun to create original programs and mix with unique instrument.
Reak2softpop#04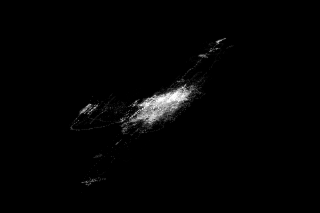 I'm adding some logical program making keyboad notes into sequence array. A rhythmic program and analog filter make sounds complicated. Now I think basic musical logics will work well with it.
Reak2softpop#03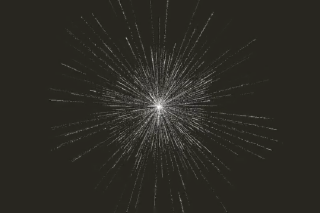 This is another result in experiments.
I like this one better.
Reak2softpop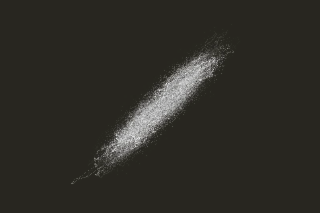 This is the first rhythmic work with reaktor and softpop.
It seems difficult to make up sounds with programing and analog musical instruments to be good music easily.
But I could find some tips and ideas through trying make and play.
JSkrewell#10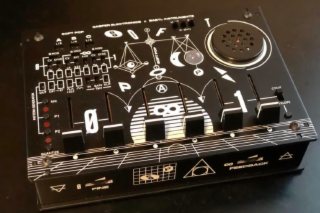 The first touch of my new instrument bastl softpop with handmade patching on reaktor.
The sound is like a skrewell whitch is ready made program on reaktor and this may be the easiest way for controlling feedback noise.
In this movie I'm using only default setting with softpop and some complexed routing on reaktor for making feedback audio into data so that I can touch faders as some controllers as well.
Harmonised noise (JSkrewell#08)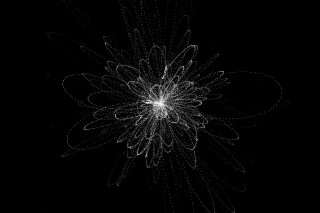 I started it up as learning about LFO's effects.
As a result I found some musical effects in those I'm interested.
Noise working with classical approach will still have many possibilities.
Giometric noise (JSkrewell#07)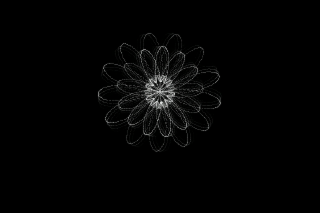 This movie is just form noise but from structured artwork.
At first I confused how I can make the noise into the geometric pattern.
I tried several ways using OSCs, mini note, feed back, node work and some so that I could make it.
Mousetrackered noise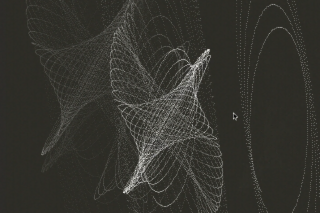 Using mouse was the most basic way to know the structure and to feel interaction when I started up computing art.
This program is also one of using mouse in reaktor and I'm attaching some musical effects.
JSkrewell#04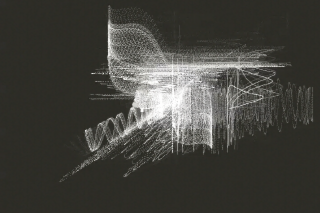 I'm learning about Reaktor.
This Ensemble is made from by my self being based on specific ensemble.
Imitating is so important for the first step to learn something new.
I could notice a lot of things and still may need a time to construct something complicated by my own.

JSkrewell#01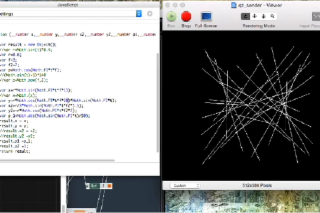 I made it up as a kind of drawing project and this is the first one of JSkrewell using JavaScript and Reaktor through osc.
As you see this is still a primitive program but 2D graphic and noise scape are synchronized perfectly.
A captured movie is not enough quality because of low fps.
The heart of energy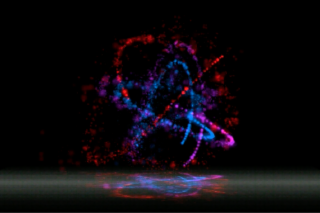 This is basically a drawing#22.
I made it up to be one of my sound works.
I had so may about composing and this is one of those without any musical construction or tips of making sounds.
It still has possibilities while i have something to feel.
The visualizer is made by my own with QC.
Tech-nou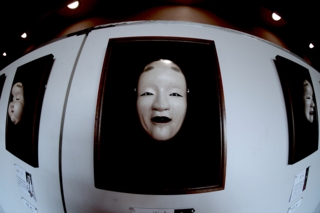 This is a track mixed techno and japanese nougaku.
Its a kind of examinations so that is not quite perfect one.
But sometimes i need these outputs for barrance and development.
Junji Kawakami feat. INGAJA
'Ichi-go ichi-e' - One Chance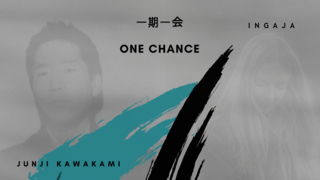 This track is a collaboration between Lithuania and Japan. 'Ichi-go ichi-e' is a traditional phrase in Japan that means "one time, one meeting'; an encounter that only happens once in a lifetime, reminding to treasure every moment, for it will never recur. We called track 'One Chance' in English as it perfectly fits with the song and our collaboration.
See more about our Stories and Lyrics
Composition, Arrangement - Junji Kawakami
Vocal melodies, lyrics - Inga Mikulėnė
Recorded, mixed and mastered by Kristijonas Lučinskas @ Soundprovocation
LIFE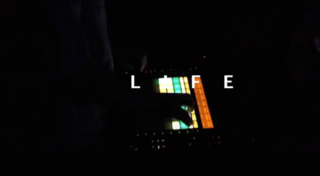 エレクトロでオリジナリティーを出すために初めて自分で歌を入れています。Ableton Pushを使ったライブミックスも自分なりのやり方を考えてみました
I wanted to create something original with electro sounds so that I sang by myself for the first time. I also tried my own way of live ad-lib mix and it seems work well.
lylics
Flash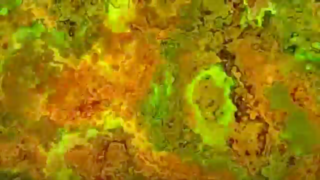 Goaとエレクトロのコンセプトを合わせています。サントラの様な要素もしばらく遠ざかっていたので意識してみました。
Recursion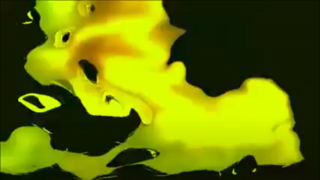 映像はFragment内で漸化式をノイズ変調、iterateしています。
久しぶりにエレクトロに偏った曲ですが、最近はあまり凝らないスタイルが好きです。
Dragon Blows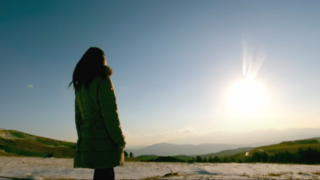 Song and lyrics by Misaki Ashiki
I arranged thiis song in 2015.

transcription in English, not officially.
Radio Signal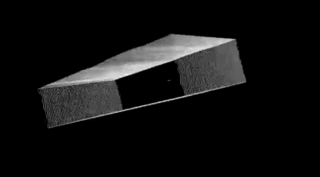 This work is the first one using visualization in 2015.
I composed it with Ableton Live using Geisterwelt by Utami
Up'n Down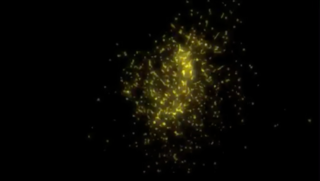 Particle visualizer with QC.
Sound is composition in 2015.

Pigeon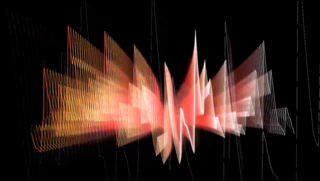 A composition in 2015 with Ableton Live and Quartz Composer using feedback.
STEPS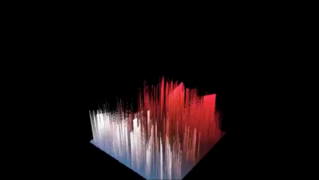 Music Visualizer with QC and GLSL .
Sound is also by myself in 2015.
White Stones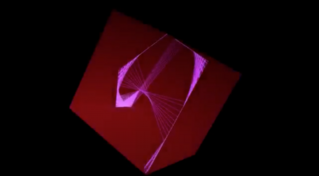 Made with GL Lines and simple Cube in QC.
Dawn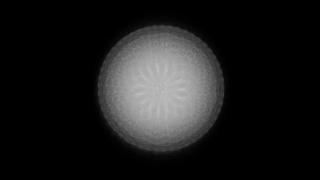 ここ最近ハマっているディープハウス系の楽曲です。
Live+nanoKONTROLを使い、一人ライブの様に作りました。
動画はQuartzComposerで微生物をイメージして作り、形と光が音に反応す­ることで視覚的にも楽しめる様にしてみました。
A sound like a deep house made using Ableton Live + nanoKONTROL.
It seems like a micro organism and react it's shape to audio peak also using feedback lights so that you might enjoy it.